SAP S/4 HANA – a new ERP generation system thanks to the in-memory solution
SAP S/4 HANA is the latest software based on SAP HANA solution, i.e., in-memory data processing platform, made available by SAP. SAP HANA facilitates faster operations on data, provides real-time access, and efficient processing and use of data in reports and publications. It is possible thanks to the unique logic, data storage, and a new software architecture.
In the ERP area, the latest solution is SAP S/4 HANA Enterprise Management. This software covers the key areas of business which include: sales processes, purchasing, production processes, services and finances, and human resources management.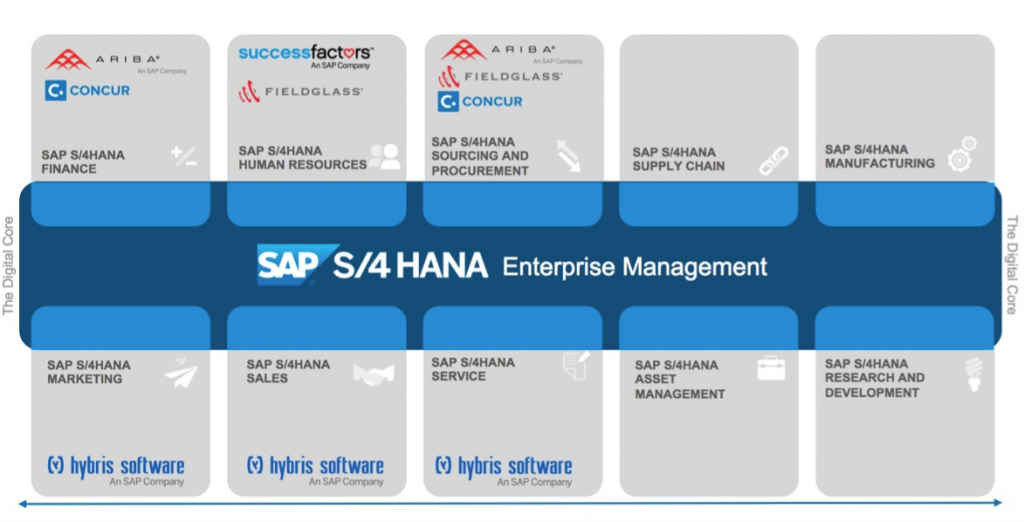 Picture 1 S/4 HANA Enterprise Management – solution structure
Source: https://news.sap.com/germany/2015/11/12/sap-s4hana-enterprise-management-15-fragen-sap/
Compared to the previous systems, the data has been simplified and organized in a way that reduces the possibility of duplicating records. This enables access to current information and conducting analyses in real-time. What is new is the extension of business processes onto the area of finance and manufacturing, and solutions dedicated for specific industries. At present, they are available to several business areas, such as: automotive, insurance and banking but, ultimately, it is planned to extend the offer with several options. An important feature of S/4 HANA is the possibility of efficient system integration with solutions in the cloud. Moving a part of the business processes to the cloud is a trend followed by companies throughout the world, creating a network of business connections. Currently, SAP has a portfolio of several applications, covering such functions as human capital management, procurement and suppliers, and makes it possible to combine these systems in a simple way.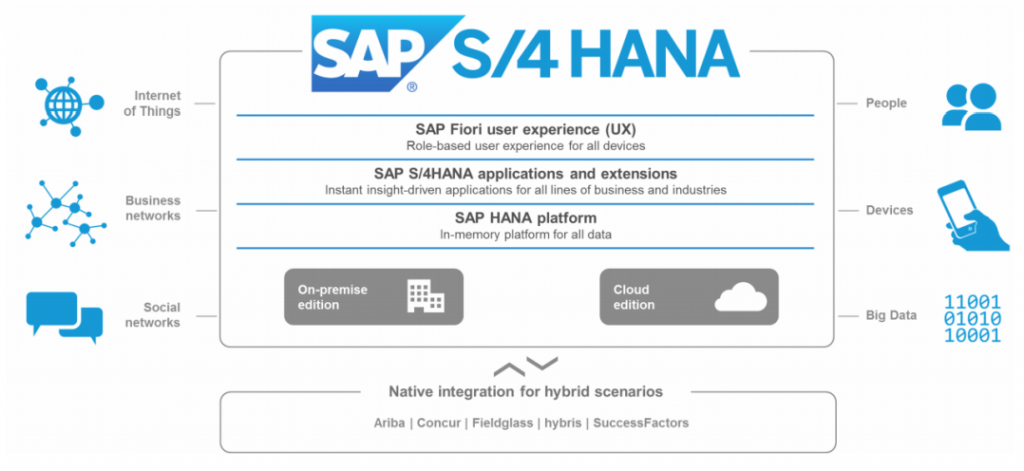 Picture 2 S/4 HANA solution
Source: https://websmp103.sap-ag.de/~sapidp/012002523100011787552015E.pdf
From a business point of view, the synergy between rapid data processing and their new organization in tables can improve key areas of company operation. It also offers the opportunity to focus on strategic segments which had earlier been neglected. The users of the system do not need to perform time-consuming tasks anymore which have little to do with financial results. From the IT perspective, implementing S/4 HANA significantly improves the structures of the system and reduces the amount of stored data which results in lower maintenance costs and increased efficiency of the implemented solutions.
S/4 HANA environment  helps quickly achieve these results thanks to the following:
Placing the system on the SAP HANA in-memory platform creates new perspectives of using the software to manage the company. As a database system, S/4 HANA fosters efficiency in key processes, simplifies structures of systems and optimizes maintenance costs. Moreover, it helps create customized applications according to needs with HANA Cloud Platform solution. SAP HCP is an environment which facilitates creating independent cloud applications, extending existing applications running in the cloud, as well as increase the functionality of on-premise systems by new opportunities offered by the cloud.
S/4 HANA system is characterized by a wide range of usage – the client can have both local access and use cloud solutions. For example, a company that would like to draw on the computing capabilities to improve the quality of their reports can retain local access to the system and transfer only the data needed to perform the analysis to the SAP HANA database.
S/4 HANA system is also based on SAP Fiori applications which are used for narrowly defined, simple tasks. Applications are role-based, not transaction-based, as used to be the case with traditional views in SAP systems. Thus, the user has a set of functionalities tailored to their workplace and to a role played in the organization. Applications also facilitate quick access, as well as fast and intuitive operation, according to the latest User Experience standards.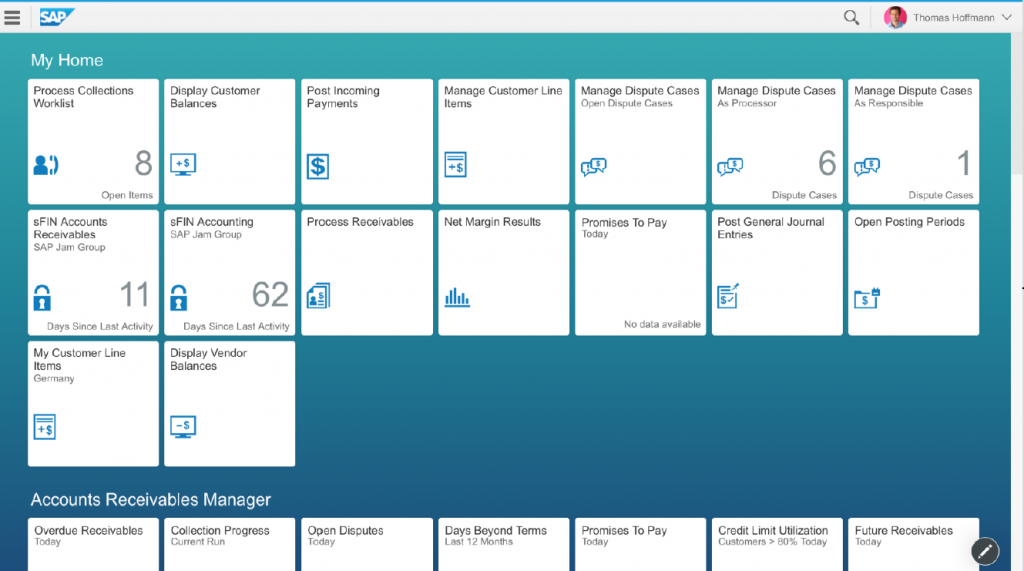 Picture 3 S/4 HANA User Interface
Source: UX102 – Explore Release 2.0 of SAP Fiori, SAP Teched 10.2015
S/4 HANA is available in a variety of ranges, to both for those customers who would like to start working with the SAP system, and for those who have been using it and plan to expand the implemented functionalities. With S/4 HANA, the company can adapt to changing realities and to the latest developments and trends, such as the digital economy, Internet of Things, Big Data technologies,  social media or integration with external support systems. Another significant advantage is the fact that software vendors have taken care of S/4 HANA deployment scenarios, adapted to every possible initial situation. A prerequisite is to locate the ERP system of the HANA platform.
The developers' ultimate objective was simplicity. The S/4 HANA  provides the user with functions of creating networks which link people and equipment in order to allow the use of the Internet of Things and Big Data technologies. An important change is also immediate access to current data, which is important for the strategic decision making process. Thanks to the SAP HANA database computing powers, the presented data is always fresh and at the suitable level of detail. This makes planning, operation, prediction and simulation of possible scenarios easier, and give new quality to management. This functionality is part of a trend appearing in business management, where emphasis is now a strong on access to the latest data sets, combining large volumes of data, and accelerating the performance of complex analyzes and reports. SAP supports business processes transfer to the cloud. It extends an offer of customized solutions, and facilitates seamless integration of systems. All these features of S/4 HANA impact the financial aspect – maintenance costs can be reduced up to 30%.
The value of S/4 HANA has already been recognized by such companies as SAP Hewlett Packard and Turkish Telecom, worldwide S/4 HANA has gained almost 3,000 customers. It is, therefore, worth to examine the benefits flowing from the implementation of in-memory technology which, in the long term, may contribute to the effective development of the company.
The author of the article is Olga Langowska, SAP ERP Consultant at Apollogic.