Introduction to Flexible Workflow in SAP Sourcing and Procurement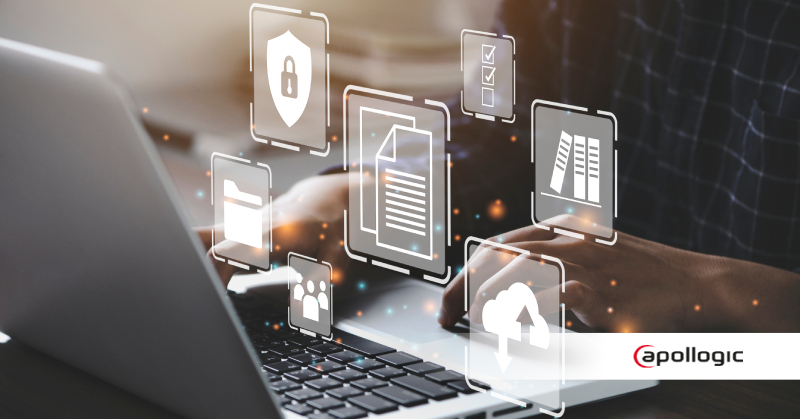 SAP Flexible Workflow simplifies the approach to document flow. Key users can manage approval processes easily and in a user-friendly environment.
The concept behind SAP Flexible Workflow
In modern organizations, we're facing an increasing number of processes. The application of the SAP Flexible Workflow concept makes it possible to manage them efficiently and brings a range of benefits, from optimization, through automation and systematization of work, to the protection of confidential information by eliminating unauthorized access to documents.
Due to business dynamics, some of the processes must be quickly adapted to changes. Previous solutions allowed great flexibility in developing workflow mechanisms, but their implementation and adaptation to the evolving environment were time-consuming.
In response to these challenges, the SAP Flexible Workflow tool was launched to simplify the set-up and maintenance of workflow mechanisms and approval processes.
What is SAP Flexible Workflow?
SAP Flexible Workflow is a solution for creating and managing workflows. As an extension of SAP Business Workflow, this tool increases its usability, making process management more accessible and flexible.
By implementing flexible workflows, we can avoid using previously popularized software tools, and, therefore, direct workflow management to business process specialists or key system users.
Predefined scenarios are available in SAP Fiori applications, which users can customize according to their current business needs and apply while setting up processes.
Flexible Workflow in procurement
When it comes to purchasing, documents such as a requisition, purchase order, quote request, etc., usually require an approval process. Currently, Flexible Workflow can be used to create an acceptance path for the following types of documents:
Request for Quotation
Supplier Quotations
Scheduling Agreements
Purchase Contracts
Purchase Orders
Service Entry Sheets
Supplier Invoices
Awarding Scenarios
Sourcing Projects
Supplier Lists for Sourcing
Purchase Requisition
The process of creating an approval path for purchasing documents using Flexible Workflow is based on the following predefined scenarios:
Tab. 1. Predefined SAP Flexible Workflow scenarios
Workflow Scenario ID
Workflow Name
Standard Task ID
Task Name
WS00800157
Overall Release of Purchase Requisition
TS00800547
Overall release of PR
WS00800173
Release of Purchase Requisition Item
TS00800548
Release of PR Item
WS00800193
Workflow for Supplier Quotation
TS00800462
Release Supplier Quotation
WS00800238
Workflow for Purchase Order
TS00800531
Release of Purchase Order (Manual)
WS00800251
Workflow for Blocked Invoice
TS00800538
Release of Blocked Invoice
WS00800302
Workflow for RFQ
TS00800576
Release RFQ
WS00800303
Workflow for Parked Invoice as Complete
TS00800577
TS00800585
Release Complete Invoice
Rework Invoice
WS00800304
Workflow for Purchase Contract
TS00800578
Release of Purchase Contract (Manual)
WS00800305
Workflow for Scheduling Agreement
TS00800580
Release of Scheduling Agreement
WS00800321
Workflow for Service Entry Sheet
TS00800593
Release SES
WS00800333
Workflow for Centrally Managed PO
TS00800600
Release of Centrally managed PO
WS00800346
Workflow for Central Purchase Contract
TS00800607
Release of Central Contract
WS02000434
Overall Release of Central PR
TS02000677
Overall Release of Central PR
WS02000438
Release of Central PR Item
TS02000687
Release central PR Item
WS02000458
Overall Release of Purchase Requisition
TS02000702
Overall release of Purchase Requisition
WS02000471
Release of Purchase Requisition Item
TS02000714
Release of Purchase Requisition Item
WS02000485
Approve Centrally Managed PR – Overall
TS02000734
Release of Centrally Managed Purchase Requisition
WS02000494
Workflow for Centrally Managed PR Item
TS02000737
Release of Centrally Managed Purchase Requisition Item
WS01800213
Workflow for Awarding Scenario
TS01800284
Release of Awarding Scenario
WS01800160
Workflow for Sourcing Project
TS01800212
Release of Sourcing Project
WS02000090
Workflow for Sourcing Supplier List
TS02000136
Release of Sourcing Supplier List
TS02000145
Release of Sourcing Supplier List with Adaptations
1. Configuration of SAP Flexible Workflow for a purchase requisition
The steps highlighted in blue are necessary to run Flexible Workflow on your system. The remaining steps are optional and allow you to customize Flexible Workflow for more complex business scenarios.
2. Creating a path for a purchase requisition approval process 
Building an acceptance path starts in the Manage Workflows for Purchase Requisitions application. This app allows for creating an acceptance process consisting of one or more workflows, the starting of which is determined by the conditions indicated while creating subsequent processes. We can activate, deactivate and organize the individual workflows and therefore establish the order in which they are brought up.
After clicking Create, the document workflow creator opens, which is divided into four sections:
a) Header – contains a field for the name of the workflow.
b) Properties – includes a field for an additional description of the Workflow, as well as "valid from:" and "valid until:" fields for managing the timing of the approval process. The changing intensity of purchases over the year can drive the variability of the process over time. If we expect many applications within a specific time – we can involve additional approvers in the process.
c) Start conditions – this section allows adding conditions that will determine the start of a given workflow. The standard application provides four starting conditions, and all of them can be extended by using BADI – the configuration process is available on the SAP Help Portal under the Optional: Define Custom Fields and Logic section.
Fig. 3. Creating a workflow – section Header, Properties, Initial conditions
d) Steps – a section that allows creating the next steps of acceptance or document review.
Fig. 4. Creating workflow – section Steps
The approval/review step is added by clicking Create above the corresponding section.
The steps creator, just like the document workflow creator, is divided into several sections:
a) Header – a section where we specify the name of the step and its type. For acceptance, there are three types of steps:
Automatic Release of PR item – recipients are designated automatically,
Release of PR item – the user indicates recipients, details and conditions of the step,
Release of Reworkable PR item – operation is similar to the type described above. The significant advantage of this step is giving the acceptor the ability to send the request back to the requester. In this case, the requester will have an additional Request Rework feature in Fiori My Inbox app.
b) Step Properties – this section contains two optional fields:
Is Optional Step – a field that indicates whether the step is optional. In this case, if an approver cannot be designated, the document workflow moves to the next step.
Exclude Restricted Agents – using this field, we can exclude individuals creating or submitting a requisition from the approval path so that the requester cannot also be the acceptor of its own requisition. In addition, SAP allows submitting custom logic for excluding agents by using BADI.
c) Recipients – in this section, we determine the approvers of a given step. The application allows us to choose between indicating the exact recipients of the document "User Based" or indicating the roles that determine the recipients – "Role Based". The system also enables us to decide whether the approval of one person or all designated individuals will be sufficient to complete the step.
Fig. 5. Creating a workflow step
d) Step Conditions – this section allows defining conditions that need to be met to prompt individual workflow steps.
e) Deadlines – allows configuring the end date of the step, after which an alert will be sent to the recipient when the deadline is exceeded.
f) Exception Handling – this section allows managing a rejected requisition. The system allows both to end the document flow and to resend the demand for revision by the designated individuals.
Fig. 6 Creating a workflow step
We can create multiple steps for each document workflow with various starting conditions and different recipients. The steps are executed according to the order set in the Steps section of the workflow creator.
Fig. 7 Document workflow creator with set acceptance steps
To run the created workflow, after saving all changes, you need to activate the workflow.
Fig. 8 Activation of workflow
Fig. 9 Manage Workflows application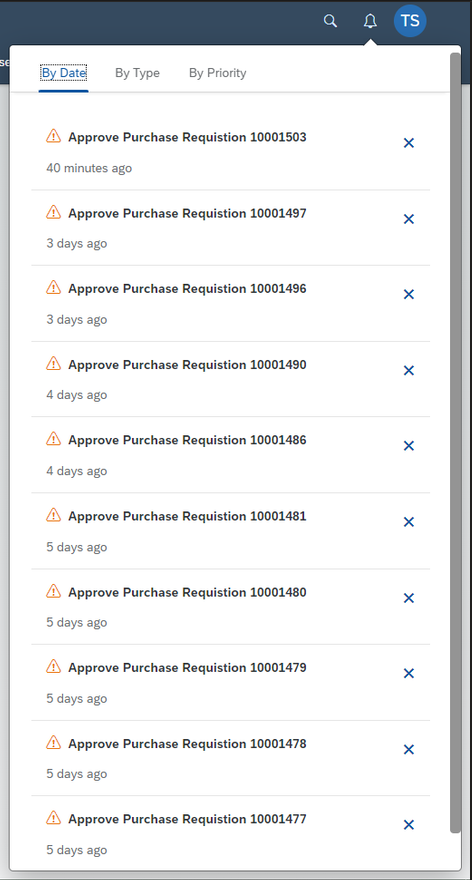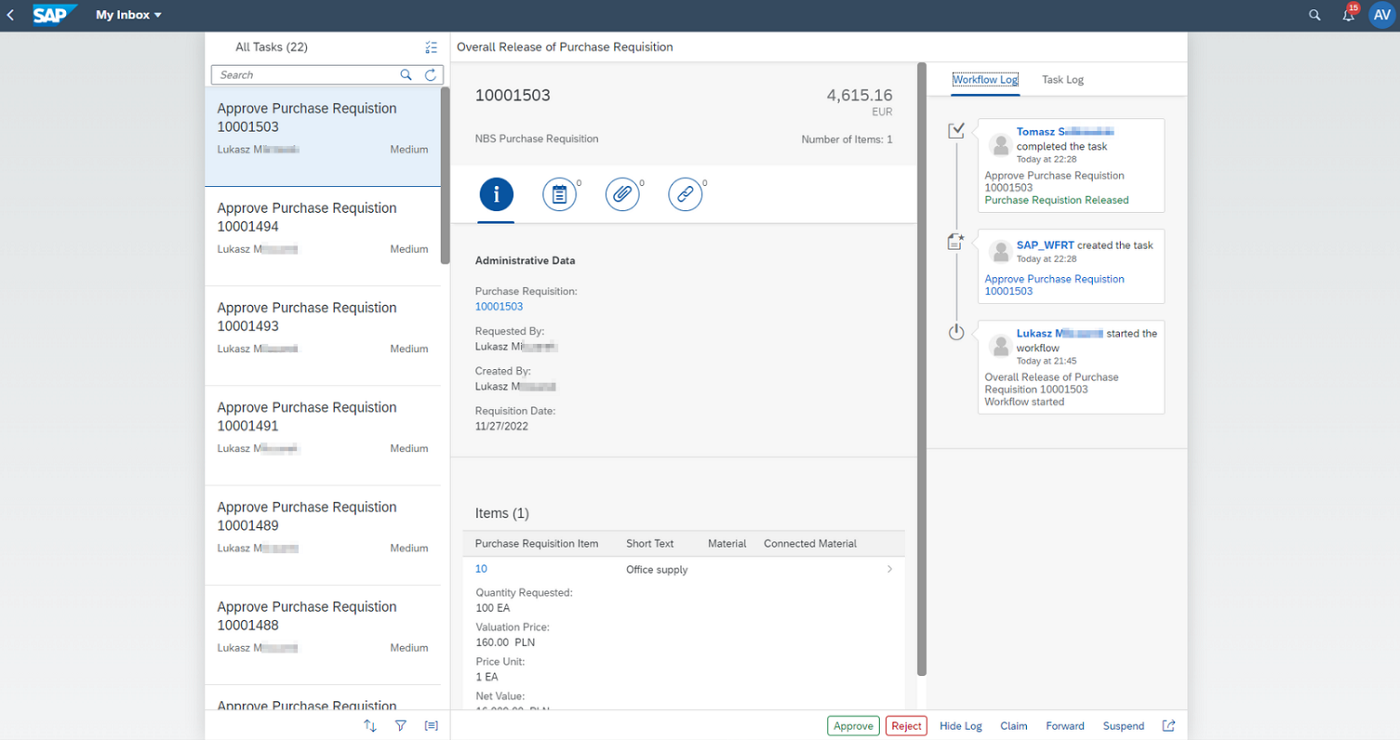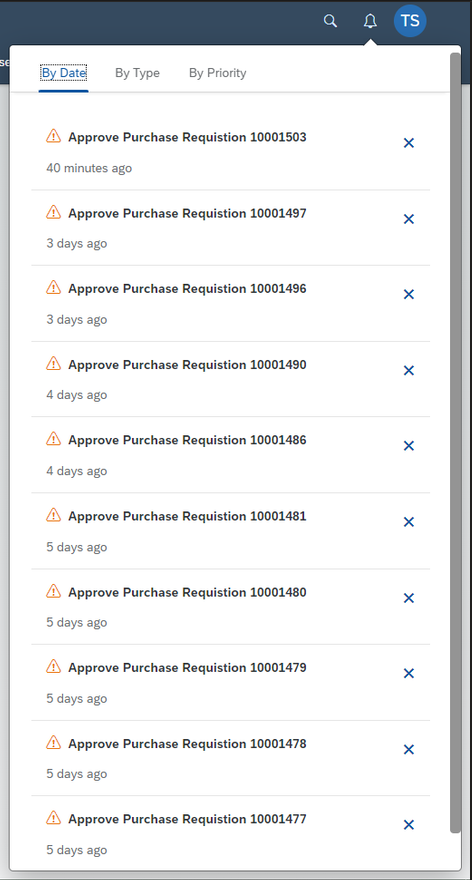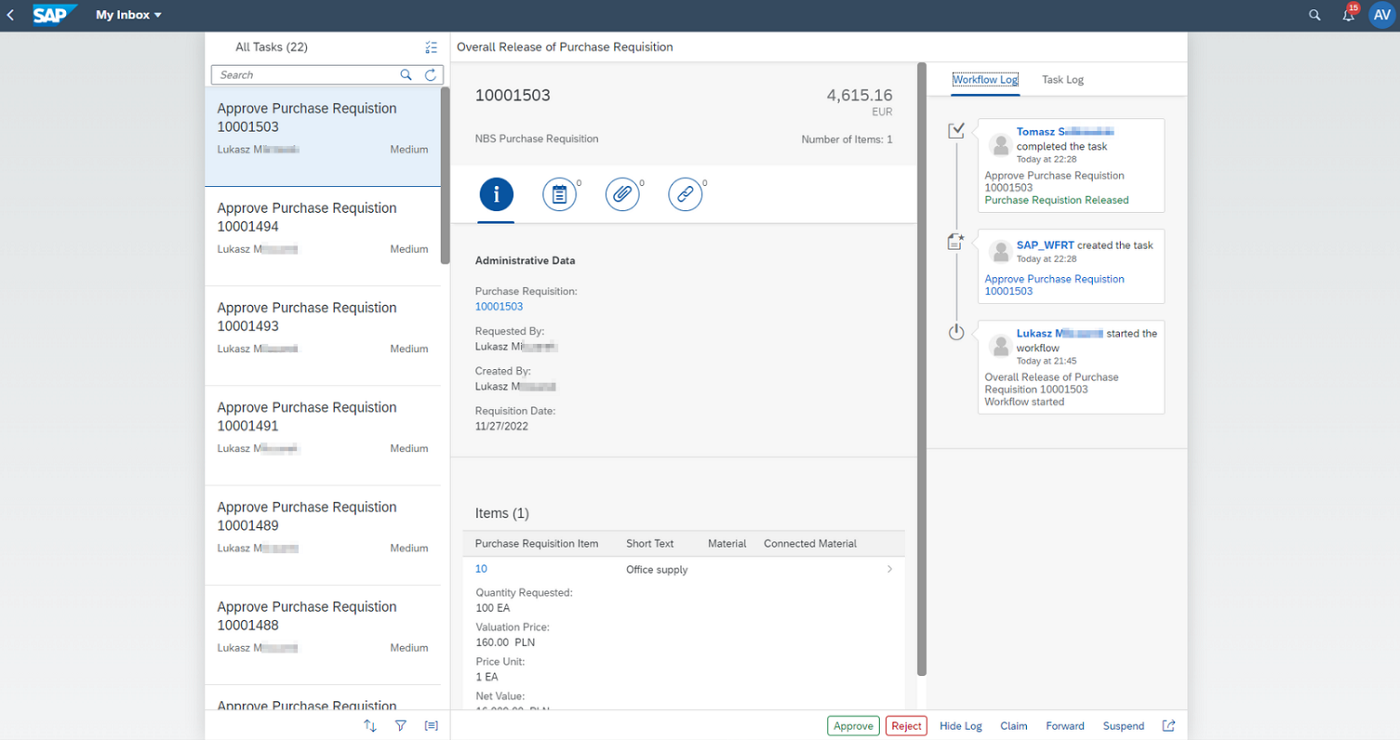 What business benefits does Flexible Workflow bring?
SAP Flexible Workflow is an effective tool for managing purchasing workflows. Using flexible workflows offers many advantages:
Using a simple interface in the SAP Fiori application, it's easy to redirect workflows from developers to business process specialists.
Applying SAP FW allows dividing existing large, single-purpose processes into smaller contingent ones, increasing their flexibility and adaptability to changing business environment.
The ability to quickly use predefined scenarios avaliable in the SAP S/4HANA standard.
Sealing the process by using the authorization model and system roles.
The app's interface is responsive and adapts to the user's device, allowing making decisions from a smartphone.
Do you want to simplify your company's workflows?